Beach Monitoring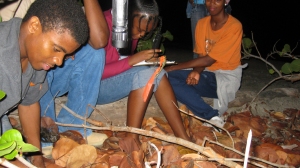 Volunteers work at night on beaches around Nevis to collect information about the numbers of turtles nesting here. Turtles encountered are tagged as part of a Caribbean-wide programme to collect information about the movement of turtles and the number of nests they lay.

Morning surveys are also carried out to estimate levels of nest predation and poaching.

The data collected are published allowing discussion between the group and international sea turtle biologists.
Education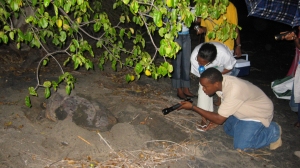 Volunteers enter local schools to give presentations about sea turtles and involve children in activities.

The Nevis Turtle Group in cooperation with The Four Season's Resort began the First Annual Sea Turtle Camp for local children ages 9-15 in the summer of 2006.

Sea Turtle Camp 2010 Was A Success

The NTG is also working with local hotels to incorporate turtle watching into their tourism programs.
Adopt-A-Beach Program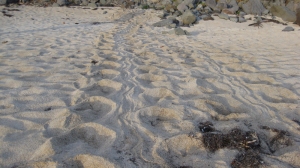 The Nevis Turtle Group is looking for dedicated volunteers to join our Adopt-a-Beach program. Volunteers will be provided with the necessary materials and training. Volunteers will then be responsible for periodically monitoring a stretch of beach. Please contact us if you are interested!
Volunteer Program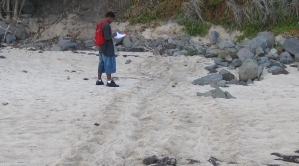 The Nevis Turtle Group is always looking for volunteers. Whether you are interested in joining us on the beach, fundraising or prefer to help out with office duties, such as data entry; there is a place for everyone, of any age!

Student volunteers in sea turtle conservation in Nevis in 2010
Outreach Program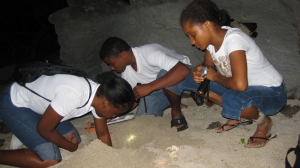 A member of the NTG would be glad to come to your school, church or any other group meeting to give a presentation on sea turtles. We also provide consultations to those interested in making their beach-front property more turtle-friendly. Please feel free to contact us if you are interested in donating materials equipment, money, or time to the group!
Eastern Caribbean Hawksbill Tracking & Conservation Project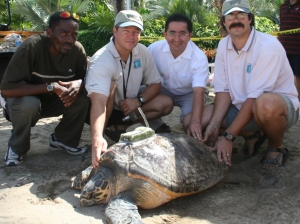 In 2006, the Nevis Turtle Group, the Sea Turtle Conservancy, and the Four Seasons Resort Nevis began an inaugural cooperative sea turtle research and conservation project to study the migration patterns of "critically endangered" hawksbill sea turtles (Eretmochelys imbricata) nesting along the Caribbean coast of Nevis in the West Indies. Learn more about the project and view the turtle's migration maps.
---
For more information contact: Lemuel Pemberton
President, Nevis Turtle Group
Webbes Ground, Gingerland, Nevis
Hotline: 1869 665 1814
Whatsapp: 1869 669 4771
nevisturtle@yahoo.co.uk